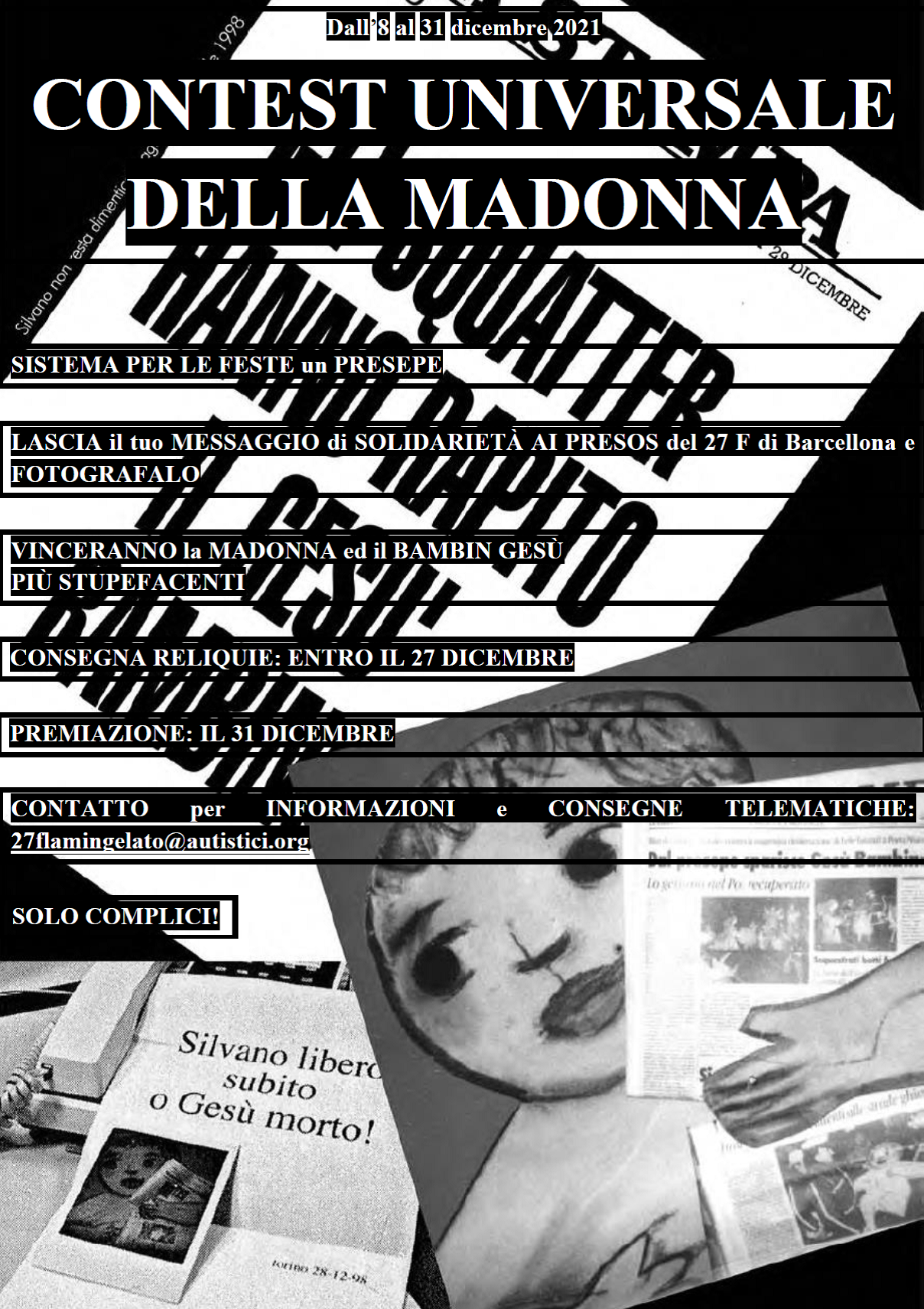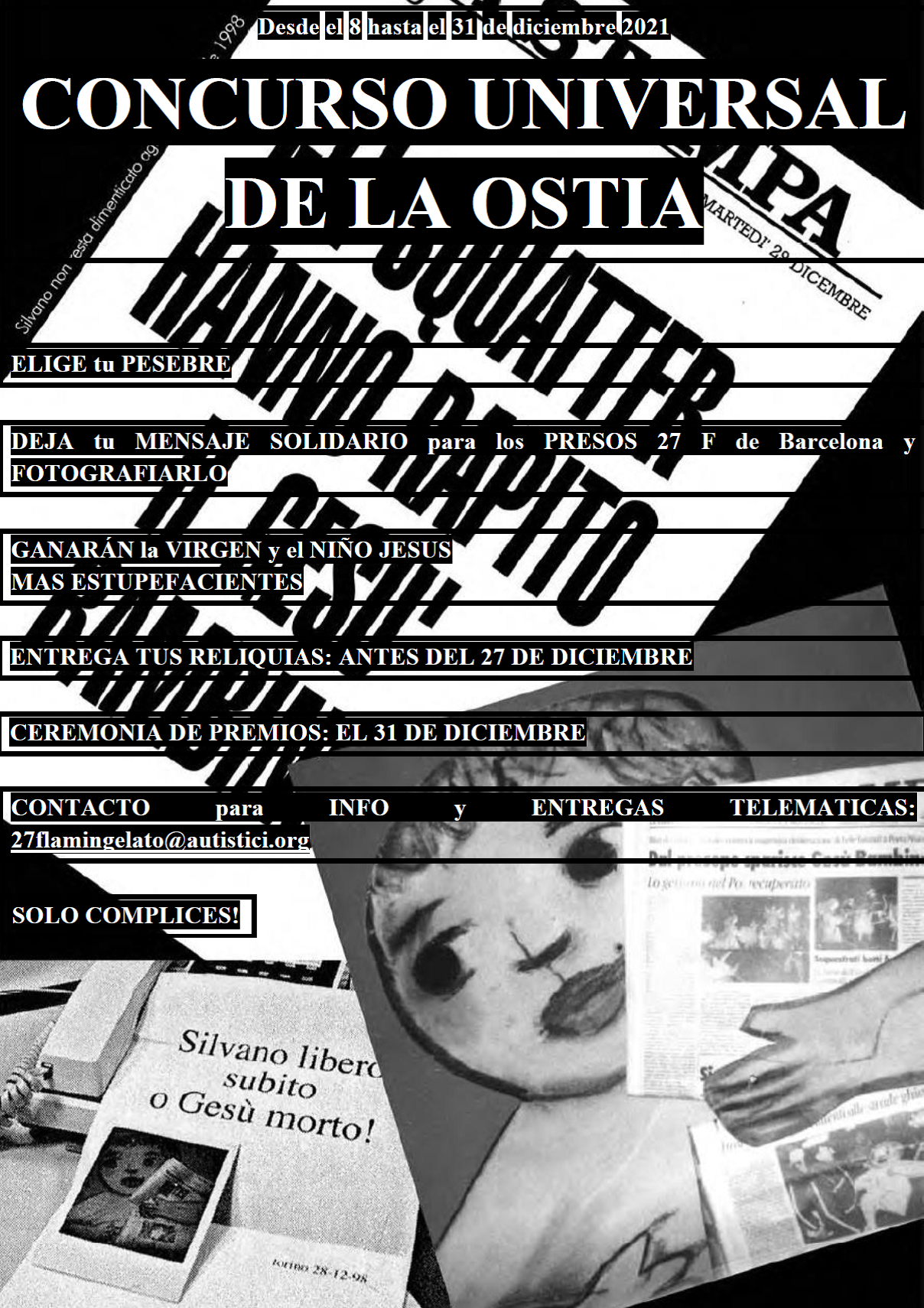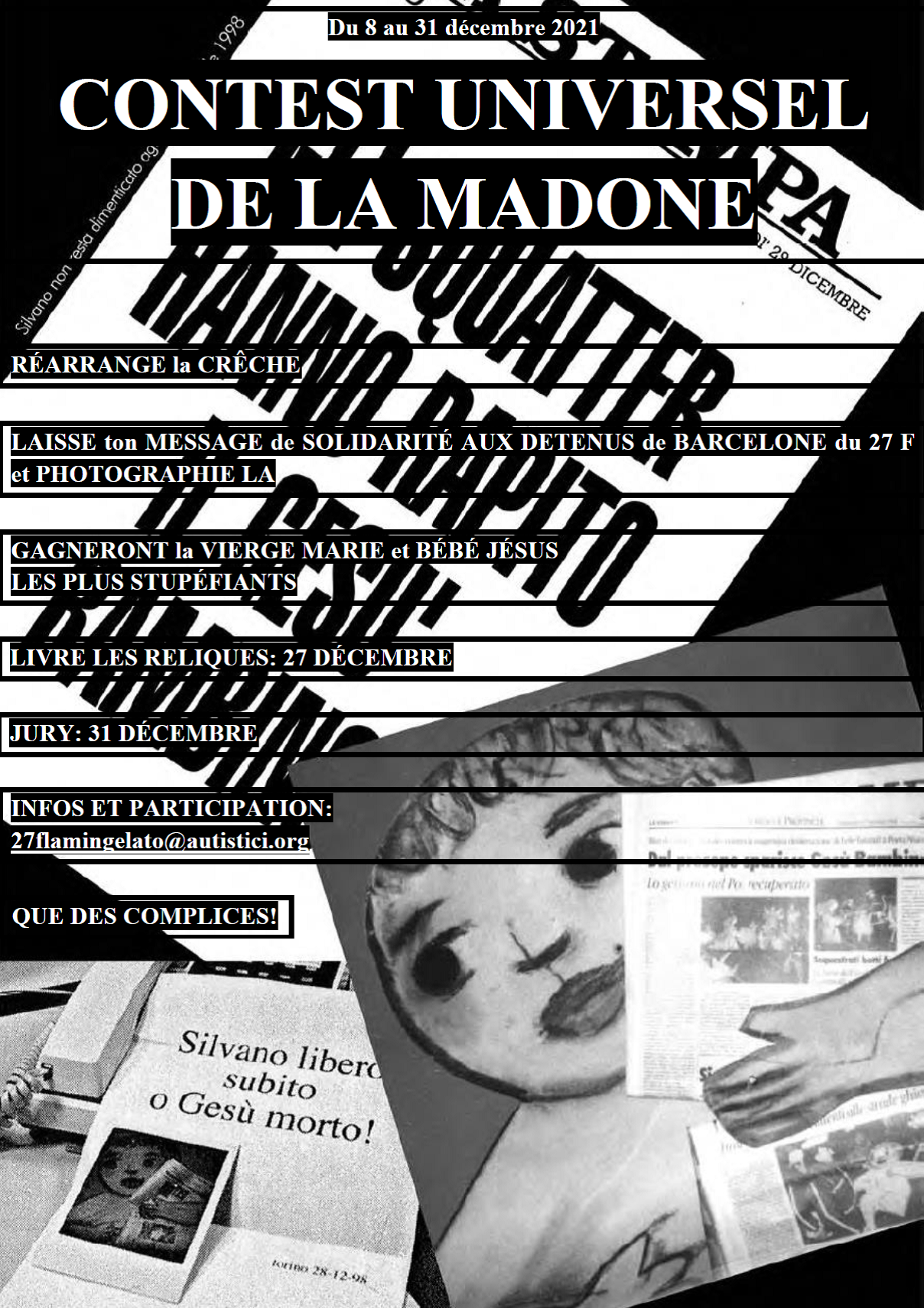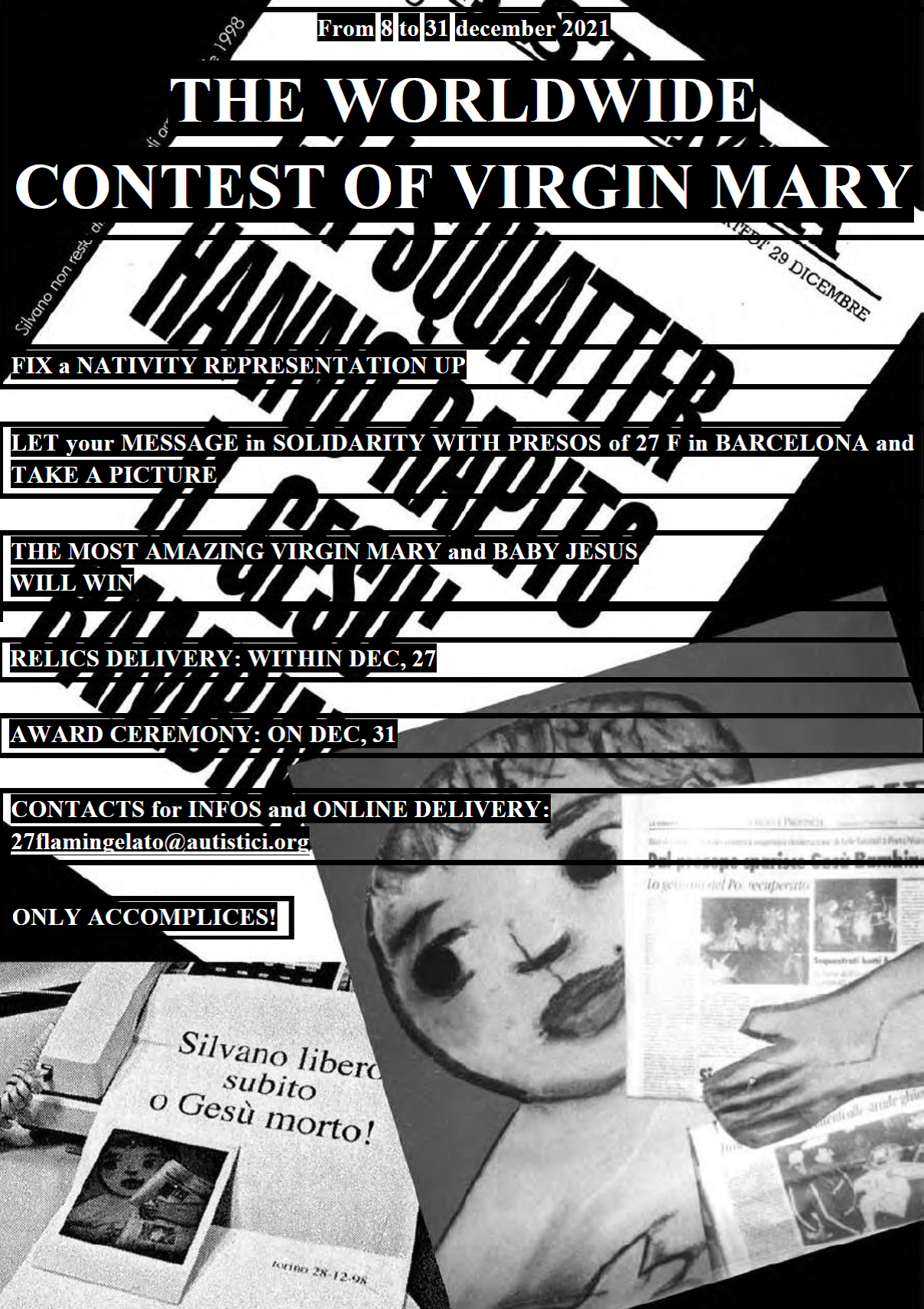 Dall'8 al 31dicembre 2021
CONTEST UNIVERSALE DELLA MADONNA
SISTEMA PER LE FESTE un PRESEPE
LASCIA il tuo MESSAGGIO di SOLIDARIETÀ AI PRESOS del 27 F di Barcellona e FOTOGRAFALO
VINCERANNO la MADONNA ed il BAMBIN GESÙ PIÙ STUPEFACENTI
CONSEGNA RELIQUIE: ENTRO IL 27 DICEMBRE
PREMIAZIONE: IL 31 DICEMBRE
CONTATTO per INFORMAZIONI e CONSEGNE TELEMATICHE: 27flamingelato@autistici.org
SOLO COMPLICI!
Desde el 8 hasta le 31 de diciembre 2021
CONCURSO UNIVERSAL DE LA OSTIA
ELIGE tu PESEBRE
DEJA tu MENSAJE SOLIDARIO para los PRESOS 27 F de Barcelona y FOTOGRAFIARLO
GANARÁN la VIRGEN y el NIÑO JESUS
MAS ESTUPEFACIENTES
ENTREGA TUS RELIQUIAS: ANTES DEL 27 DE DICIEMBRE
CEREMONIA DE PREMIOS: EL 31 DE DICIEMBRE
CONTACTO para INFO y ENTREGAS TELEMATICAS: 27flamingelato@autistici.org
SOLO COMPLICES!
Du 8 au 31 décembre 2021
CONTEST UNIVERSEL DE LA MADONE
RÉARRANGE la CRÊCHE
LAISSE ton MESSAGE de SOLIDARITÉ AUX DETENUS de BARCELONE du 27 F et PHOTOGRAPHIE LA.
GAGNERONT la VIERGE MARIE et BÉBÉ JÉSUS LES PLUS STUPÉFIANTS
LIVRE LES RELIQUES: 27 DÉCEMBRE
JURY: 31 DÉCEMBRE
INFOS ET PARTICIPATION: 27flamingelato@autistici.org
QUE DES COMPLICES!
From 8 to 31 december 2021
THE WORLDWIDE CONTEST OF VIRGIN MARY
FIX a NATIVITY REPRESENTATION UP
LET your MESSAGE in SOLIDARITY WITH PRESOS of 27 F in BARCELONA and TAKE A PICTURE
THE MOST AMAZING VIRGIN MARY and BABY JESUS WILL WIN
RELICS DELIVERY: WITHIN DEC, 27
AWARD CEREMONY: ON DEC, 31
CONTACTS for INFOS and ONLINE DELIVERY: 27flamingelato@autistici.org
ONLY ACCOMPLICES!